PATRON SUGGESTIONS
A Bad Character / Deepti Kapoor
From Goodreads:
"She is twenty, restless in New Delhi. Her mother has died; her father has left for Singapore. He is a few years older, just back to India from New York.
When they meet in a café one afternoon, she—lonely, hungry for experience, yearning to break free of tradition—casts aside her fears and throws herself headlong into a love affair, one that takes her where she has never been before.
Told in a voice at once gritty and lyrical, mournful and frank, A Bad Character marks the arrival of an astonishingly gifted new writer. It is an unforgettable hymn to a dangerous, exhilarating city, and a portrait of desire and its consequences as timeless as it is universal. "
In the Kingdom of Ice: The Grand and Terrible Polar Voyage of the USS Jeannette / Hampton Sides
"Are you someone who has always been fascinated by the story of Shackleton and The Endurance, but felt that the ending was just too damn happy? If so, I highly recommend reading this book."
From Goodreads:
"In the late nineteenth century, people were obsessed by one of the last unmapped areas of the globe: the North Pole. No one knew what existed beyond the fortress of ice rimming the northern oceans, although theories abounded. The foremost cartographer in the world, a German named August Petermann, believed that warm currents sustained a verdant island at the top of the world. National glory would fall to whoever could plant his flag upon its shores.
James Gordon Bennett, the eccentric and stupendously wealthy owner of The New York Herald, had recently captured the world's attention by dispatching Stanley to Africa to find Dr. Livingstone. Now he was keen to re-create that sensation on an even more epic scale. So he funded an official U.S. naval expedition to reach the Pole, choosing as its captain a young officer named George Washington De Long, who had gained fame for a rescue operation off the coast of Greenland. De Long led a team of 32 men deep into uncharted Arctic waters, carrying the aspirations of a young country burning to become a world power. On July 8, 1879, the USS Jeannette set sail from San Francisco to cheering crowds in the grip of "Arctic Fever."
The ship sailed into uncharted seas, but soon was trapped in pack ice. Two years into the harrowing voyage, the hull was breached. Amid the rush of water and the shrieks of breaking wooden boards, the crew abandoned the ship. Less than an hour later, the Jeannette sank to the bottom,and the men found themselves marooned a thousand miles north of Siberia with only the barest supplies. Thus began their long march across the endless ice-a frozen hell in the most lonesome corner of the world. Facing everything from snow blindness and polar bears to ferocious storms and frosty labyrinths, the expedition battled madness and starvation as they desperately strove for survival.
With twists and turns worthy of a thriller, In The Kingdom of Ice is a spellbinding tale of heroism and determination in the most unforgiving territory on Earth."
Maeve's Times / Maeve Binchy
"Fascinating, what a gift she gave us with her writings!"
From Goodreads
'As someone who fell off a chair not long ago trying to hear they what they were saying at the next table in a restaurant, I suppose I am obsessively interested in what some might consider the trivia of other people's lives'
Maeve Binchy is well-known for her bestselling novels, the most recent of which was A Week In Winter. But for many years Maeve was a journalist, writing for The Irish Times.
From 'The Student Train' to 'Plane Bores', 'Bathroom Joggers' to 'When Beckett met Binchy', these articles have all the warmth, wit and humanity of her fiction. Arranged in decades, from the 1960s to the 2000s, and including Maeve's first and last ever piece of writing for The Irish Times, the columns also give a fascinating insight into the author herself.
With an introduction written by her husband, the writer Gordon Snell, this collection of timeless writing reminds us of why the leading Irish writer was so universally loved.
STAFF SUGGESTIONS
~Lisa Murray~
"A woman writer goes to Athens in the height of summer to teach a writing course. Though her own circumstances remain indistinct, she becomes the audience to a chain of narratives, as the people she meets tell her one after another the stories of their lives.
Beginning with the neighbouring passenger on the flight out and his tales of fast boats and failed marriages, the storytellers talk of their loves and ambitions and pains, their anxieties, their perceptions and daily lives. In the stifling heat and noise of the city the sequence of voice begins to weave a complex human tapestry. The more they talk the more elliptical their listener becomes, as she shapes and directs their accounts until certain themes begin to emerge: the experience of loss, the nature of family life, the difficulty of intimacy and the mystery of creativity itself.
Outline is a novel about writing and talking, about self-effacement and self-expression, about the desire to create and the human art of self-portraiture in which that desire finds its universal form." From Goodreads
"From personal loss to phantom diseases, The Empathy Exams is a bold and brilliant collection; winner of the Graywolf Press Nonfiction Prize.
Beginning with her experience as a medical actor who was paid to act out symptoms for medical students to diagnose, Leslie Jamison's visceral and revealing essays ask essential questions about our basic understanding of others: How should we care about each other? How can we feel another's pain, especially when pain can be assumed, distorted, or performed? Is empathy a tool by which to test or even grade each other? By confronting pain—real and imagined, her own and others'—Jamison uncovers a personal and cultural urgency to feel. She draws from her own experiences of illness and bodily injury to engage in an exploration that extends far beyond her life, spanning wide-ranging territory—from poverty tourism to phantom diseases, street violence to reality television, illness to incarceration—in its search for a kind of sight shaped by humility and grace." From Goodreads
What we see when we read : a phenomenology ; with illustrations / Peter Mendelsund.
"A gorgeously unique, fully illustrated exploration into the phenomenology of reading-how we visualize images from reading works of literature, from one of our very best book jacket designers, himself a passionate reader.
What do we see when we read? Did Tolstoy really describe Anna Karenina? Did Melville ever really tell us what, exactly, Ishmael looked like?
The collection of fragmented images on a page – a graceful ear there, a stray curl, a hat positioned just so – and other clues and signifiers helps us to create an image of a character. But in fact our sense that we know a character intimately has little to do with our ability to concretely picture our beloved – or reviled – literary figures.
In this remarkable work of nonfiction, Knopf's Associate Art Director Peter Mendelsund combines his profession, as an award-winning designer; his first career, as a classically trained pianist; and his first love, literature – he thinks of himself first, and foremost, as a reader – into what is sure to be one of the most provocative and unusual investigations into how we understand the act of reading." From Goodreads
~Mary Anne Mead~
Remedy for Love / Bill Roorbach. 
"This title is on the shortlist for the Maine Readers Choice Award and he's coming to the Library on July 8th to do a book talk. Liking it a lot!"
From Goodreads
"They're calling it the "Storm of the Century," so Eric stops at the market for provisions on his way home from work. But when the unkempt and seemingly unstable young woman in front of him in line comes up short on cash, a kind of old-school charity takes hold of his heart—twenty bucks and a ride home is the least he can do, right? Trouble is, Danielle doesn't really have a home. She's squatting in a cabin deep in the woods, no electricity, no heat, nothing but the nearby river to sustain her. She'll need food, water, firewood, and that's just to get her through the storm: there's a whole Maine winter ahead.
So he gets her set up, departs with relief, climbs to the road, but his car has been towed with his phone inside, and the snow is coming down with historic speed and violence. There's no choice but to return to the cabin. Danielle is terrified, then merely hostile—who is this guy with his big idea that it's she who needs rescuing? As the snow keeps mounting, they're forced to ride out the storm together. For better and for worse.
The Remedy for Love is a harrowing story about the truths we reveal when there is no time or space for artifice.
"The Remedy for Love is not the remedy for sleep deprivation. You'll stay up all night . . . It is relentless and brilliant. Leave it to Roorbach to tease out the subtlest nuances in the progress of love while stoking a tale that is as gripping as any Everest expedition—and that is also tender and terrifying and funny and, in the end, so true it seems inevitable. I'm not sure there's another American writing today who can lay down a love story, or any story, with the depth and appeal and freshness of Bill Roorbach." -Peter Heller, author of The Dog Stars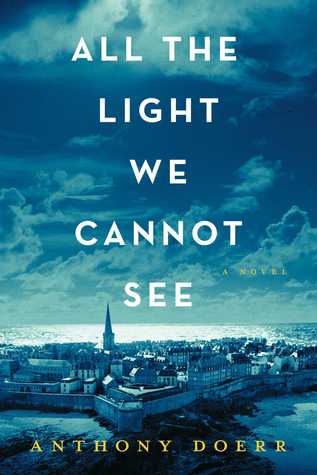 All the Light We Cannot See / by Anthony Doerr
"Fantastic – every chapter like a poem – beautifully written."
From Goodreads
Marie-Laure lives with her father in Paris near the Museum of Natural History, where he works as the master of its thousands of locks. When she is six, Marie-Laure goes blind and her father builds a perfect miniature of their neighborhood so she can memorize it by touch and navigate her way home. When Marie-Laure is twelve, the Nazis occupy Paris, and father and daughter flee to the walled citadel of Saint-Malo, where Marie-Laure's reclusive great-uncle lives in a tall house by the sea. With them they carry what might be the museum's most valuable and dangerous jewel.
In a mining town in Germany, the orphan Werner grows up with his younger sister, enchanted by a crude radio they find. Werner becomes an expert at building and fixing these crucial new instruments, a talent that wins him a place at a brutal academy for Hitler Youth, then a special assignment to track the resistance. More and more aware of the human cost of his intelligence, Werner travels through the heart of the war and, finally, into Saint-Malo, where his story and Marie-Laure's converge.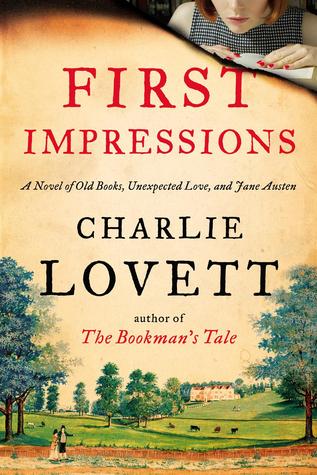 First impressions : a novel of old books, unexpected love, and Jane Austen / by Charlie Lovett. 
"The title says it all.  It was a fun read – entertaining."
From Goodreads
Charlie Lovett first delighted readers with his New York Times bestselling debut, The Bookman's Tale. Now, Lovett weaves another brilliantly imagined mystery featuring one of English literature's most popular and beloved authors: Jane Austen.
Book lover and Austen enthusiast Sophie Collingwood has recently taken a job at an antiquarian bookshop in London when two different customers request a copy of the same obscure book: the second edition of Little Book of Allegories by Richard Mansfield.  Their queries draw Sophie into a mystery that will cast doubt on the true authorship of Pride and Prejudice—and ultimately threaten Sophie's life.
In a dual narrative that alternates between Sophie's quest to uncover the truth—while choosing between two suitors—and a young Jane Austen's touching friendship with the aging cleric Richard Mansfield, Lovett weaves a romantic, suspenseful, and utterly compelling novel about love in all its forms and the joys of a life lived in books.
~Candy Emlen~
"In honor of the Muslim Journeys program I was reading In the Country of Men.The writing is beautiful, very lyrical."
From Goodreads
"Libya, 1979. Nine-year-old Suleiman's days are circumscribed by the narrow rituals of childhood: outings to the ruins surrounding Tripoli, games with friends played under the burning sun, exotic gifts from his father's constant business trips abroad. But his nights have come to revolve around his mother's increasingly disturbing bedside stories full of old family bitterness. And then one day Suleiman sees his father across the square of a busy marketplace, his face wrapped in a pair of dark sunglasses. Wasn't he supposed to be away on business yet again? Why is he going into that strange building with the green shutters? Why did he lie? Suleiman is soon caught up in a world he cannot hope to understand-where the sound of the telephone ringing becomes a portent of grave danger; where his mother frantically burns his father's cherished books; where a stranger full of sinister questions sits outside in a parked car all day; where his best friend's father can disappear overnight, next to be seen publicly interrogated on state television."
~Kate McMullin~
Shards of Honour / Lois Bujold McMaster (The Vorkosigan Saga: Book 1)
"Hooked on the Vorkosigan Series by Lois Bujold McMaster. Classic space science fiction with intelligent dialogue and intriguingly unpredictable protagonists. Trying to limit myself so I don't wiz through them and miss out on interacting with family and friends as happens when I get hooked. In attempting to slow myself down on the series, I read 2 of the Curse of Chalion series also by Bujold. Medieval fantasy."
From Goodreads
"In her first trial by fire, Cordelia Naismith captained a throwaway ship of the Betan Expeditionary Force on a mission to destroy an enemy armada. Discovering deception within deception, treachery within treachery, she was forced into a separate peace with her chief opponent, Lord Aral Vorkosigan – he who was called "The Butcher of Komarr" – and would consequently become an outcast on her own planet and the Lady Vorkosigan on his.
Sick of combat and betrayal, she was ready to settle down to a quiet life, interrupted only by the occasional ceremonial appearances required of the Lady Vorkosigan. But when the Emperor died, Aral became guardian of the infant heir to the imperial throne of Barrayar – and the target of high-tech assassins in a dynastic civil war that was reminscent of Earth's Middle Ages, but fought with up-to-the-minute biowar technology. Neither Aral nor Cordelia guessed the part that their cell-damaged unborn would play in Barrayari's bloody legacy."
Dreams of Trespass: Tales of a Harem Girlhood / Fatema Mernissi
"A book that should be on the high school reading list. This is about her girlhood in a harem in Morocco in the 40s. Wow. No matter your thoughts on Islam, this is an amazing read for the context of female-female power struggle and political history of French and Spanish tug-of-war over Morocco."
From Goodreads
"I was born in a harem in 1940 in Fez, Morocco…" So begins Fatima Mernissi in this exotic and rich narrative of a childhood behind the iron gates of a domestic harem. In Dreams of Trespass, Mernissi weaves her own memories with the dreams and memories of the women who surrounded her in the courtyard of her youth—women who, deprived of access to the world outside, recreated it from sheer imagination. Dreams of Trespass is the provocative story of a girl confronting the mysteries of time and place, gender and sex in the recent Muslim world."