Which books or authors are you thankful for? Has a book ever helped you get through a tough time, or bring perspective or inspiration into your life? Below are list of personal favorites as well as some ideas to jump-start some meaningful reading.
Lisa Murray
From Goodreads:
"Thus begins a lyrical journey through the days and weeks, the months, and the changing seasons in the life of one New Englander and his family. The oxcart man packs his goods – the wool from his sheep, the shawl his wife made, the mittens his daughter knitted, and the linen they wove. He packs the birch brooms his son carved, and even a bag of goose feathers from the barnyard geese. He travels over hills, through valleys, by streams, past farms and villages. At Portsmouth Market he sells his goods, one by one – even his beloved ox. Then, with his pockets full of coins, he wanders through the market, buying provisions for his family, and returns to his home. And the cycle begins again.
Donald Hall has created a gentle story, evoking a quiet time in American life that is irrevocably past. Using a special method which resembles the early American technique of painting on wood, Barbara Cooney has captured the sense of peace of early nineteenth-century New England and the bustle of Portsmouth Market."
As a new mother at age 32, I just could not connect to the mothering or child-rearing books on the market. They seemed trite and based on fantasy and were miles from what I was experiencing. Thank goodness a friend sent me her battered copy of Ann Lamott's "Operating Instructions," a candid account of the raw, confusing, and amazing experience of having a baby.
From Goodreads:
"The most honest, wildly enjoyable book written about motherhood is surely Anne Lamott's account of her son Sam's first year. A gifted writer and teacher, Lamott (Crooked Little Heart) is a single mother and ex-alcoholic with a pleasingly warped social circle and a remarkably tolerant religion to lean on. She responds to the changes, exhaustion, and love Sam brings with aplomb or outright insanity. The book rocks from hilarious to unbearably poignant when Sam's burgeoning life is played out against a very close friend's illness. No saccharine paean to becoming a parent, this touches on the rage and befuddlement that dog sweeter emotions during this sea change in one's life."
Living in Northern California and Oregon in the late 80's and 90's I was surrounded by activism ranging from outraged bumperstickers to Earth First members chaining themselves to trees. On a rafting trip in the Four Corners area on the San Juan River, one of the guides lent me a copy of "The Monkey Wrench Gang" by Edward Abbey, introducing me to the extreme politics of water and wilderness preservation.
From Goodreads:
"Ed Abbey called The Monkey Wrench Gang, his 1975 novel, a "comic extravaganza." Some readers have remarked that the book is more a comic book than a real novel, and it's true that reading this incendiary call to protect the American wilderness requires more than a little of the old willing suspension of disbelief. The story centers on Vietnam veteran George Washington Hayduke III, who returns to the desert to find his beloved canyons and rivers threatened by industrial development. On a rafting trip down the Colorado River, Hayduke joins forces with feminist saboteur Bonnie Abbzug, wilderness guide Seldom Seen Smith, and billboard torcher Doc Sarvis, M.D., and together they wander off to wage war on the big yellow machines, on dam builders and road builders and strip miners. As they do, his characters voice Abbey's concerns about wilderness preservation ("Hell of a place to lose a cow," Smith thinks to himself while roaming through the canyonlands of southern Utah. "Hell of a place to lose your heart. Hell of a place… to lose. Period"). Moving from one improbable situation to the next, packing more adventure into the space of a few weeks than most real people do in a lifetime, the motley gang puts fear into the hearts of their enemies, laughing all the while. It's comic, yes, and required reading for anyone who has come to love the desert."
This book is amazing…If you have ever been interested in drawing but have been discouraged by what you perceive to be lack of talent, know how or instruction, please pick up Betty Edward's "Drawing on the Right Side of the Brain." It not only teaches how to outsmart your critical inner voice, this book also teaches you how to actually see and perceive the world and objects around you.
From Goodreads:
"Over the last decade, Dr. Edwards has refined her material through teaching hundreds of workshops and seminars. Truly The New Drawing on the Right Side of the Brain, this edition includes:
the very latest developments in brain research new material on using drawing techniques in the corporate world and in education instruction on self-expression through drawing an updated section on using color detailed information on using the five basic skills of drawing for problem solving
Translated into thirteen languages, Drawing on the Right Side of the Brain is the world's most widely used drawing-instruction guide. People from just about every walk of life—artists, students, corporate executives, architects, real estate agents, designers, engineers—have applied its revolutionary approach to problem solving. The Los Angeles Times said it best: Drawing on the Right Side of the Brain is "not only a book about drawing, it is a book about living. This brilliant approach to the teaching of drawing . . . should not be dismissed as a mere text. It emancipates."
After living in Chile for 6 months in 1992, I became obsessed with Pablo Neruda and the region of Patagonia. I visited Neruda's homes in Isla Negra and Santiago, in addition to the cities he wrote about, the beaches, oceans and mountains. I lived on a tiny island on the edge of Patagonia and met people who suffered and lost family under the military government, I met people who became rich and prosperous under Pinochet and Native Mapuche families who were working to rebuild their culture and communities. While Bruce Chatwin's "In Patagonia" has been criticized for being half imagined, in a way it doesn't even matter. The place inspires fantasy, invention and adventure, along with the eerie simultaneous duality of both intensely belonging yet also being utterly alone, much like the contrasting themes of vitality and passion then consuming desolation present in Neruda's "20 Love Poems and a Song of Despair."
Vesta Kowalski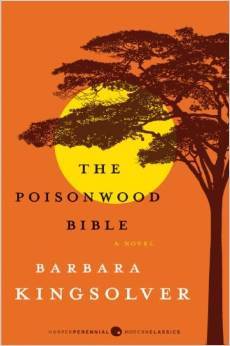 "The Poisonwood Bible" by Barbara Kingsolver gave me the impetus to look at the world from the perspective of gratitude and how I could be helpful.
From Goodreads:
"The Poisonwood Bible is a story told by the wife and four daughters of Nathan Price, a fierce, evangelical Baptist who takes his family and mission to the Belgian Congo in 1959. They carry with them everything they believe they will need from home, but soon find that all of it — from garden seeds to Scripture — is calamitously transformed on African soil. What follows is a suspenseful epic of one family's tragic undoing and remarkable reconstruction over the course of three decades in postcolonial Africa.
Kate McMullin
"A Thanksgiving Visitor" by Truman Capote
From Goodreads:
"Another masterpiece by the great American writer, Truman Capote, is brought to an audience of all ages. Buddy and his closest friend, his eccentric elderly cousin, Miss Sook–the memorable characters from Capote's A Christmas Memory–love preparing their old country house for Thanksgiving. But this year, there's trouble in the air. Full color illustrations."
"A Time to Keep" by Tasha Tutor
From Goodreads:
"There were homemade valentines and Easter eggs, Fourth of July picnics and family birthdays. Thanksgiving brought visits from relatives — so many, the children had to sleep in the barn! And finally there was Christmas, the best of all "times to keep," with handmade presents, an Advent calendar, and a "beautiful tree in a shine of candles."
Month by month, Tasha Tudor's delicate illustrations bring to life the holidays of an earlier time. A warm-hearted celebration of family and tradition, this treasury of "times to keep" will be cherished and enjoyed all year long."
"The Lorax" by Dr. Seuss
From Goodreads:
"Long before "going green" was mainstream, Dr. Seuss's Lorax spoke for the trees and warned of the dangers of disrespecting the environment. In this cautionary rhyming tale, we learn of the Once-ler, who came across a valley of Truffula Trees and Brown Bar-ba-loots ("frisking about in their Bar-ba-loot suits as they played in the shade and ate Truffula Fruits"), and how his harvesting of the tufted trees changed the landscape forever. With the release of the blockbuster film version, the Lorax and his classic tale have educated a new generation of young readers not only about the importance of seeing the beauty in the world around us, but also about our responsibility to protect it."
"The Giving Tree" by Shel Silverstein
From Goodreads:
" 'Once there was a tree…and she loved a little boy.'
So begins a story of unforgettable perception, beautifully written and illustrated by the gifted and versatile Shel Silverstein.
Every day the boy would come to the tree to eat her apples, swing from her branches, or slide down her trunk…and the tree was happy. But as the boy grew older he began to want more from the tree,
and the tree gave and gave and gave.
This is a tender story, touched with sadness, aglow with consolation. Shel Silverstein has created a moving parable for readers of all ages that offers an affecting interpretation of the gift of giving and a serene acceptance of another's capacity to love in return."