Patron Recommendations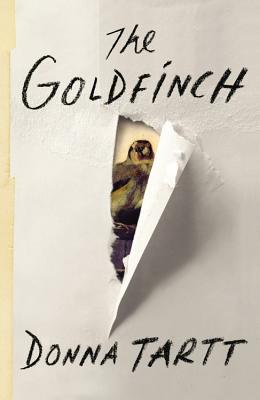 "The Goldfinch" Donna Tartt
"The Goldfinch is a rarity that comes along perhaps half a dozen times per decade, a smartly written literary novel that connects with the heart as well as the mind….Donna Tartt has delivered an extraordinary work of fiction."–Stephen King,
The New York Times Book Review Composed with the skills of a master, The Goldfinch is a haunted odyssey through present day America and a drama of enthralling force and acuity.
It begins with a boy. Theo Decker, a thirteen-year-old New Yorker, miraculously survives an accident that kills his mother. Abandoned by his father, Theo is taken in by the family of a wealthy friend. Bewildered by his strange new home on Park Avenue, disturbed by schoolmates who don't know how to talk to him, and tormented above all by his unbearable longing for his mother, he clings to one thing that reminds him of her: a small, mysteriously captivating painting that ultimately draws Theo into the underworld of art.
As an adult, Theo moves silkily between the drawing rooms of the rich and the dusty labyrinth of an antiques store where he works. He is alienated and in love-and at the center of a narrowing, ever more dangerous circle.
The Goldfinch is a novel of shocking narrative energy and power. It combines unforgettably vivid characters, mesmerizing language, and breathtaking suspense, while plumbing with a philosopher's calm the deepest mysteries of love, identity, and art. It is a beautiful, stay-up-all-night and tell-all-your-friends triumph, an old-fashioned story of loss and obsession, survival and self-invention, and the ruthless machinations of fate.
"The Fault in Our Stars" by John Green
Young Adult
Despite the tumor-shrinking medical miracle that has bought her a few years, Hazel has never been anything but terminal, her final chapter inscribed upon diagnosis. But when a gorgeous plot twist named Augustus Waters suddenly appears at Cancer Kid Support Group, Hazel's story is about to be completely rewritten.
A patron checking out cookbooks the other day suggested I might enjoy the webpage for James Lileks' "Gallery of Regrettable Food." Once there I couldn't stop laughing at the collections of cookbook images from the 70's on down to the golden age of 1950's cooking meets Kodachrome photography.
"They're not really recipe books. They're ads for food companies, with every recipe using the company's products, often in unexpected ways. (Hot day? Kids love a frosty Bacon Milkshake!) There's not a single edible dish in the entire collection. The pictures in the books are ghastly – the Italian
dishes look like a surgeon got a sneezing fit during an operation, and the queasy casseroles look like something on which the janitor dumps sawdust. But you have to enjoy the spirit behind the books – cheerful postwar perfect housewifery is taught in every book. Sure, you'll fall short of the ideal. But what's an ideal for if not to show up your shortcomings? Perhaps the main reason people buy these books is the Mom factor. At least that's my excuse. They're everyday relics of another time, my parents' time, and this gives them a poignancy they do not deserve, and do nothing to earn. But I love them anyway." ~http://www.lileks.com/
"TransAtlantic" by Colum McCann
A patron returned this books with overwhelming praise: "A fascinating story and very well told. The audio version was amazing!"
GoodReads says: "National Book Award-winning novelist Colum McCann delivers his most ambitious and beautiful novel yet, tying together a series of narratives that span 150 years and two continents in an outstanding act of literary bravura.
In 1845 a black American slave lands in Ireland to champion ideas of democracy and freedom, only to find a famine unfurling at his feet. In 1919, two brave young airmen emerge from the carnage of World War One to pilot the very first transatlantic flight from Newfoundland to the west of Ireland. And in 1998 an American senator criss-crosses the ocean in search of a lasting Irish peace. Bearing witness to these history-making moments of Frederick Douglass, John Alcock and "Teddy" Brown, and George Mitchell, and braiding the story together into one epic tale, are four generations of women from a matriarchal clan, beginning with Irish housemaid Lily Duggan. In this story of dark and light, men and women, history and past, fiction and fact, National Book Award-winning novelist Colum McCann delivers a tour de force that is his most spectacular achievement to date."